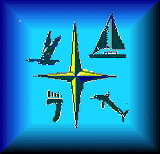 Ships' Log, Page 3
Wind Gift, amid the famous rocks of Cabo San Lucas

Nearly 5 months out, "Wind Gift" has covered some serious Southbound miles.
The log resumes with a letter that was sent from Mexico on January 31, 1999:
12/14/98 to 1/11/99
Sitting in Cabo San Lucas, waiting the last twenty days for mail. It came.
1/12/99
Left Cabo at 0800. Made only 12.8 nm all day.
Anchored at Costa Azul, near Cabo de San Jose.
1/13/99
Left at 0900. It started slow, then switched to a Northerly at 8 - 10 knots,
for a run of 100.3 nautical miles in a 24 hour period.
1/14/99
Caught a Bonito!
1/15/99
Winds died. Slept. 1000: becalmed.
Cranked on motor. Saw 2 sea turtles! 1400: back on sail.
57.8 nm
1,119.9 total nm from Santa Barbara.
1/16/99
Sighted Isla Isabella at 1050.
Motored on glassy seas. Anchored at 1400.
22.5 nm.
1/19/99
Left at 0730.
49 nm.
1/20/99
0730 Liesurely trip. Saw no Gray Whales!
Anchored at Punta Mita, 1430.
20*45' N 105* 59'W
23.3 nm.
1/21/99
Wind came up. Left at 0800. As soon as I got going, it stopped, and I had to motor
to Puerto Vallarta. No anchoring available. I had to take a slip!
20* 39.79' N 105* 15.05' W
11.24 nm.
On the way, about a half mile off, a Humpback breached many times.
He did it upside down! Belly up! Awesome!!!
1/23/99
Left Puerto Vallarta at 1030. Sailed against the wind all the way back to Punta Mita.
Anchored at 1715.
1/24/99
Left at 0730. Light winds, motoring.
Passed Cabo Corrientos light house at 1515. Took a photo.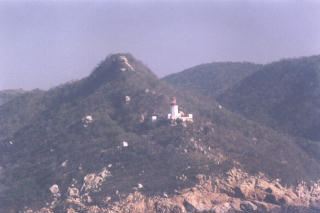 1/25/99
Cranked on the motor before dawn to make Bahia Chamela before dark.
Anchored 1715
1030, 1/24 to 1030 1/25, 57 nm.
Air: 85* Water: 75*
19*35.05' N. 105*07.92' W.
1,589.4 total miles sailed from Santa Barbara.
1/29/99
Bahia Chamela to Bahia Tenacatita, 0800 to 1500.
Air: 85* Water: 80*
19*18.01' N 104* 50.28' W
30.8 nm
Caught another Bonito!
1/30/99
Gave my Canadian courtesy flag to Les on the "GYPSY WIND".
His flag was all faded.
1/31/99
0800 to 1115: Bahia Tenacatita to Bahia Navidad.
I am the only sailboat here!
Motored all the way with light winds on the nose.
85* air 82* water.
19*13.03' N 104*42.71' W
12.27 nm
2/1/99
Bahia Navidad to Manzanillo, 0630 to 1330
Motored.
Air: 85* Water: 82*
19*03.31' N 104*18.67' W
24.3 nm
2/8/99
Left Manzanillo, 1300. Tried working the jib.
It balances better than the genoa for self-steering.
Sailed halfway to Bahia Maruata. Wind came from every direction.
2/9/99
Ended up motoring the last 30 miles.
Watched dolphins play on my bow while motoring on a moonlit glassy sea.
Anchored Bahia Maruata 1430.
85* air 82* water
18*16.12' N 103*20.73' W
78 nm
2/10/99
Bahia Maruata to Bahia Pechilinguillo, 0830 to 1330.
Air: 90* Water: 85*
18*12.05'N 103*07.93'W
13.3 nm.
2/11/99
Left at 0600 in a light Northerly. It died at 0900.
As "GIFT" sits becalmed on a glassy sea, schools of fish, 2 inches long
with vertical white bands scurry to keep in "GIFTS" shadow.
A Booby circles anxiously, trying to figure out how to catch the fish without
coming too close to "GIFT".
1108: A light Southerly comes up, and turns into a travelling wind that lasts all day
and half the night.
2/12/99
I motored during a calm while the wind was changing to a Northerly.
Good winds! At one time, it was 8 to 10 knots, and whole schools of flying fish (10 to 20)
were flying together to celebrate the wind.
A whale breeched maybe 20 times off my port side, a half mile away.
I saw a sea turtle!
Motored last 30 miles to anchor in daylight.
Anchored 1600 at Zihuatanejo.
Air: 90* Water: 85*
17*38.21' N 101*33.32' W
95.2 nm
Brian and Rosemary on "MARIA LENA" raced me in.
I saw them last in Santa Barbara,
1,831 Nautical Miles ago.

And how would it be?
2/14/99
I'm all rested up, and today I went snorkelling. I explored Bahia Zihuatanejo
in the dinghy, and when I found a place where I wanted to snorkel, I would just tow the dinghy behind me. That's easier than trying to anchor it, or tie it up someplace.
Today may be the most delightful swim of my life. I didn't see any spearable fish, but it
is so neat to just put on a mask and fins, and roll off the boat! No wet suit!
No divers' ear!

And from there, he was headed for Acapulco, expecting to be there in time for the mail to catch up to him by April 01. After that, email could be a problem for awhile, as he intends to make a
straight run of 336 miles, bypassing Guatemala altogether and landing next at
Puerto Corinto, in Nicaragua.
Well, that was the plan.....
The ships' log resumes again on March 27
Left Acapulco at 0700. Motored 4 hours, then a most wonderful travelling wind set in to last most of the night.
Dolphins blessed me. I saw one about 8 feet long in crystal clear water, smiling at me under my boat. 0700, 3/27 ~ 0700, 3/28: 81.9 nautical miles.
3/28
Good sailing day with milder winds. Motored the last ten miles to anchor at
Bahia Chacahna at 1014, 3/29
0700, 3/28 ~ 1014, 3/29: 61.6 nautical miles.
Air: 90* Water: 78*
15*50.01'N 97*40.08' W
3/29
Anchorage too bouncy - big swee running. Did some work on the boat.
Tightened and water sealed the rudder bolts, then left at 1315.
Took a good nap ghosting outta' there on a light westerly.
Then, a mousy Easterly set in and I motored most of the night.
3/30
Honda outboard began acting up; finally started making death moans, but with some
sailing and some motoring, I anchored at Puerto Huatulco at 1615.
15*45.15'N 96*07.73'W
Air: 90* Water 80*
90.5 nautical miles.
4/9
Paid 17,646 pesos to Pablo Dominguez for a new 8 h.p. Johnson long shaft,
to be here in 15 days.
2,173.5 nautical miles, total.
I last received an email from him on April 22nd., saying that his new motor arrived early.
h
He was to leave Huatulco the following Monday, bound again for Costa Rica.
I hope he emails again pretty soon!
Meanwhile,
As most visitors to this page are aware, a major interest to El Bucko is Whale tracking.
I will be trying to attract people like Honda, and the makers of just about everything
he uses. If anyone knows the right companies to approach about some kind of
super cell phone, and how to convince them that they need a whale chaser in thier
advertising, please,
Thank you for visiting!