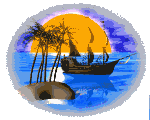 Ships Log
Page 2

In real time, it is well into January, 1999, but communication lag time between the world
where El Bucko roams and the one where HTML is a common language is more than Earth to Mars. This is easy to imagine, when you look outside your window, and compare it to this view: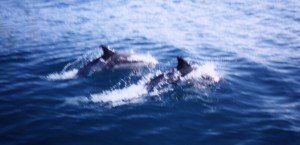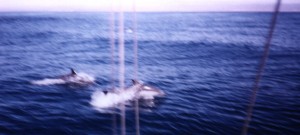 The Dolphins are a regular view, from the "back porch".
The fine young fellow there is Toby Sagara, knitting his brow at the workings of
the GPS as he alters the course of "Wind Gift".
You know for sure that this isn't Marina Del Rey, because you can see the hills.

Now, a transcript of the log of El Capitan Bucko:
November 28
A storm - sprinkles and Southerly winds to 15 knots. Sure glad to be in a harbor!
(Still in Turtle Bay).
Left Turtle Bay 12/2 and sailed in bouncy seas to Bahia San Pablo. Stayed only a few hours because the bay was too bouncy to sleep - upped anchor and sailed all the way to Abreojas. (Neat name - it means "open eyes", probably because of white water breaking over a shoal miles from shore.)
70* air 68* water
97.6 nautical miles
26*42.68' N. 113*34.01' W.
***
December 05
Ready to go but the winds picked up too much, and we decided to stay. It increased to a
steady 30 knots with gusts to 35 knots. A gale! Some boats we were travelling with got caught
in it and got hammered. Silvercloud was with us! I tried to get Toby, my shipmate, to bow down in front of my picture of Silver Cloud*, but he wouldn't do it. Non-believer!
***
December 06
Left at 11:30, with favorable weather and winds and sailed to Bahia Santa Maria.
Arrived at 1930, December 07.
24*45.73' N. 112*15.15' W.
75* air 62* water
155 nautical miles
Toby checked the surf. It was too small.
***
December 09
Sailed out of Bahia Santa Maria to Punta Belcher, inside Mag Bay (Bahia Magdalena).
24*34.64' N. 112*04.27' W.
75* air 67* water
22 nautical miles
***
December 10
Motored into San Carlos for supplies
75* air 68* water
24*46.92' N. 112*07.08' N.
15 nautical miles
***
December 11
Sailed back to Punta Belcher
***
December 12
Left Punta Belcher at 0600. Beautiful sailing weather at first.
December 13
Mousy winds on the nose. Let them get me off course, hoping they would shift later and
blow us back. They didn't. Had to motor, 60 miles.
***
December 14
Arrived Cabo San Lucas, 0930
22*53.43' N. 109*53.84' W.
80* air 76* water!!!
160 nautical miles
943 nautical miles total, from Santa Barbara.
At that point, there came a peculiar paradox. El Bucko wrote:
"I love the laid back ways of this la-la land, but the price I pay is the loss of efficiency.
Stores open late and close early. People are not motivated. Can't get through on phones.
But I like being warm!"
***
I want to trade problems with him!!
He left Cabo' on Jan. 10, Southbound, as usual.
Toby ran out of money, and went back to "the real world".
***
*About Silver Cloud-
He was Chief of the Oglala Sioux when we met him, in 1973.
For that whole story, go
To continue with the saga, click here