The final Push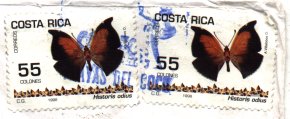 This entry to the log of "Wind Gift" was by far the longest and most difficult in making.
Our intrepid sea hero began this section of the log while he was off the coast of Guatemala, enroute to Costa Rica:


4/12 Huatulco: Went scuba diving with a Mexican friend, Raymundo Gonzalez.
Began accupressure treatments on some deaf children.
4/13 A lady friend from a neighboring sailboat helped me refine the accupressure treatments.
Went scuba diving again, with Raymundo, Jose Guzman and Lorenzo. Lorenzo caught some small fish, then took us to his brothers' restaraunt where he cooked and served them to us in a great dinner.
4/22 New motor is delivered.
4/26 Left Huatulco at noon o'clock to a good travelling wind. Saw 8 Sea Turtles!
Two groups of Dolphins!! "GIFT" scooted at 5 knots on just the working jib.
Strange sight - I see the sun set behind mountains!
4/27 Saw a Booby bird standing on a Sea Turtle out in the middle of the ocean.
Finished breaking in new Johnson. 78 Nauticle miles.
4/28 Thunderstorms (Chabascos) rattled their way to land with a light show.
Winds are mousy. 40 NM.
4/29 Discovered my new outboard is making 3 mpg! Honda made 10 mpg.
Checked it out and found a leaking gas line. Also, I need to find the optimum power setting
for cruising. 65 miles to go, and enough gas for 45. Winds are still mousy.
1400
A travelling wind set in. "GIFT" is scooting 5 knots in winds 8 - 10 knots.
4/30 Did a speed run with a different gas line. "Johnnie" makes 6 mpg at 6 knots!
Anchored Puerto Madero at 0930.
90* air 88* water (in lagoon)
14*42.77' N 92*24.22' W
Noon 4/29 - 0930, 4/30: 72 NM
5/4 :( My little Honda ran off last night, in the arms of a new lover.
Left Puerto Madero 0900.
Good winds and currents. Double-reefed for a chubasco in the night.
5/5 Another chubasco - rode it out bare-poled. Winds 45 knots, with gusts to 60 knots.
1100 - On course, heading to weather, double-reefed, with currents against me.
0900, 5/4 to Noon, 5/5: 59.5 NM
Contrary winds, currents. Lost six miles in one tack.
5/6 Pretty day. Some chubascos in the distance at mid-day.
Noon, 5/5 to Noon 5/6: 18 NM
Mousy winds on the nose; currents against me. Against a wall!
Noon, 5/6 to Noon, 5/7: 16 NM
5/7 Went back and forth. No progress for two days. Finally, the chubascos went away
and quit intimidating my travelling winds. Made headway from noon on.
Contrary currents are subsiding. The "Sailing Directions" claim they are alternating
currents, and change direction every 3 - 4 days.
***
Boy! Talk about frustration! For two days, I couldn't make any progress sailing,
and when I tried to motor against the currents, I was back down to 3 mpg.
I decided to just wait out the weather and currents. No place to anchor, and the
Guatemalan ports charge $100 American U.S. dollars just to enter their ports.
The usual winds along this part of the coast are "wind-the-clock" winds. They start
off SSE in the morning, and during the day, colck around to come from the West.
At night, they come from the NW to North.
Right now, 0800, 5/8, the sails are flapping as the night winds die away.
In awhile, the SSE winds will set in, and clock 20* every few hours, following the sun.
I am 20 miles offshore. I will use the SSE portion of the wind to tack towards shore,
hoping the current will be more favorable there.
The wind didn't show up. Decided the current against me is two knots. Motored six
miles towards shore, hoping the current is different there. Seems to be! I'll see how
my GPS fixes are tonight. For the last three days, they have been doubling back over
themselves. Going in circles! Motoring cross-surrent, I made six knots again.
Futility! I barely make headway against the wind and current with the motor, and the
headwinds are not strong enough to sail against the current.
Happiness!
The current is only one knot against me, instead of two. Progress!
***
BACK TO THE LOG
5/8 Contrary currents are subsiding. The "Sailing Directions" claim they are
alternating currents, and change direction every 3 - 4 days.
Noon, 5/7 to Noon, 5/8 21 NM
Motored toward shore to escape 2 knotWNW current. Near shore, it is only one knot.
Made some headway, hoping to finally escape the city glow of Puerto Quetzal, which
I have been close to for two days. Just as I thought I had made it, along came a
chubasco, and blew me right back again. I lost 5 miles in that storm.
I couldn't believe my GPS, and took a hand bearing compass sight to Puerto Quetzal
to confirm it. When the storm was over, I came out on deck. "GIFT" came through
it O.K. - 45 knot winds. In an ink black night, I sorted things out to get under sail
and regain lost ground.
Noon, 5/8 to Noon, 5/9: 18.5 NM
5/9 Made some headway in the early morning, but when the sun came up, I sat
becalmed until noon. Travelling winds set in, strong enough to buck the currents.
Made some mileage. Even this days' chubasco had winds not over 20 knots, from
the West! "GIFT" was slipping along on just the genny, and keel up.
5/10 Winds remained strong all day.
Noon, 5/9 tp Noon, 5/10: 40 NM
Add to that bucking a one knot current for 24 hours, and it was a 64 mile day.
Passed the Guatemalan border at 0515. Up went the El Salvadoran flag.
Set becalmed a few hours, motored some, then the wind came up.
Rounded Punta Remedios, then spent a few more hours becalmed until a friendly
chubasco took pity on me.
5/11 Now I am on a reach to be 20 miles offshore when I cross the Bay of Fonseca,
to avoid pirates in that area. Didn't work. A panga with two guys made me think they
were going to board. When they left, I went 4 miles more out to sea.
Beating all afternoon on a double-reefed main in winds 15 to 20 knots.
Noon, 5/10 to Noon, 5/11: 38 NM
Motored some until I was too exhausted. Went to sleep. A friendly breeze
helped me along that night.
5/12 A good travelling wind for a few hours, then a breeze on the nose.
1100 - A chubasco! No lightening, but two water spouts. Motored to avoid the center
of the storm and the water spouts. Now I'm laying too, bare poled, until the storm passes.
Noon, 5/11 to Noon, 5/12: 30 NM
Second day of beating against the wind, double-reefed. The day winds ae SE (headwinds),
and at night they turn to Northerlies. I make the most miles in the Northerlies.
I am passing the Gulf of Fonseca, at least 20 miles off shore. The Port Captain at Puerto
Madero warned us that bandidos have been raiding boats that go too close to shore.
Bandidos. Chubascos. Water Spouts.
Contrary winds and currents.
5/13 Dodged another chubasco, 10 miles wide! Wind finally shifted enough for me
to make headway.
Noon, 5/12 to Noon, 5/13: 25 NM
A good wind came up; a SW, but the SE winds of the last few days set up a one knot current.
Started across the Gulg of Fonseca in the dark, dodging chubascos. Spent all night waking
up to set steering, in a half sleep/half wake situation where I didn't know which was real and
which was dreams. I was exhausted, and my dreams paralleled reality. Only in the dreams
I had a boatload of rowdy people. When I woke up, it was a relief to have peace and quiet.
I made good time, but woke up soaking wet. (My foul weather gear has self-destructed.)
5/14 Motored some on smooth seas. I have decided to make a stop at Puerto Corinto
for food, gas and SLEEP! Decided I couldn't make Corinto before dark, and "GIFT"
is now ghosting downwind on just the jib. That should set me up to enter the harbor in the daylight.
1500, 5/13 to 1730, 5/14: 53 NM
Good nights' sleep, ghosting toward Corinto.
5/15 Woke up feeling good. Even slept enough to get morning mouth! Decided against
Corinto. Why pay $100 just to be able to buy 20 gallons of gas?
1730, 5/14 to Noon, 5/15: 19 NM
Easy downwind sail all afternoon on just the genny. No chubascos!
Uh-huh.
Just when I got past one thirty miles across with constant lightening and was reefed down
on the genny to sleep, I got blasted! The chubasco didn't last long, but set up a friendly
North wind, and "GIFT" made 10 miles on it on just a reefed genny.
I slept all night!
There is a God!
5/16 Woke up at 5:45, not over three miles off course. 97.4 miles to go! Becalmed.
Motored 20 minutes.
Noon, 5/15 to Noon, 5/16: 4 NM
Bought 2.5 gallons of gas from a fisherman. He gave me a fish! 15 mile run from
noon to 1700. Hight wind blew all night; Easterly. "GIFT" was balanced to it all
night. Slept good.
5/17 Had visions of motoring into Bahia Santa Elena, Costa Rica, but it was too rough.
46 miles to go, and a Papagallo hits! (A Papagallo is the name of a local off shore wind,
usually stronger than the one I got.) Beating into it on a double-reefed main. 20 to 25
knots; some gusts to 35. "GIFT" is bubbling along on a lashed tiller, riding easy.
Papagallo eased off; still have to beat into it. No anchorage for Bucko tonight.
Noon, 5/16 to Noon, 5/17: 59 NM
Bucking mousy winds, trying to make it to an anchorage all night.
5/18 Motored. Used all but my emergency gas to drop anchor at 0900 in Key Point
on Cabo de Santa Elena.
Noon, 5/17 to 0900, 5/18: 40 NM
I am in Costa Rica!!!
85* Air and water.
10* 53.867' N 85* 55.074' W
Up went the Costa Rican courtesy flag.
The anchorage lasted until 1730. A chubasco chased me out. I was on a lee shore.
Sailed all night, too exhausted to even steer. Sailed all day. Ran out of gas totally.
I was sitting there, one mile to go to Marina Flamingo, with no wind and no gas, when
another chubasco showed up. I could use the wind from it to make that last mile.
That chubasco last night blew me out to sea. That is why I had to sail all day for a 24 mile trip.
Dropped anchor at Marina Flamingo at 1800. I am going to stay here awhile.
Water 82* Air 80*
10* 26.415' N 85* 47.044' W
24 NM
5/20 O.K. So I'm not going to stay here awhile. The boat has to go to Playa
de Cocos to check in!
2,918.55 Nautical Miles, total.
5/21 Left Marina Flamingo at 0700. Motored to Playa de Cocos and anchored at 0930.
Check-in went smooth.
10* 33.404' N 85* 41.719' W
90* Water 85* Air
13 NM

So, in spite of all that nature and the unfriendlies of the Guatemalan coast tried
to put in the way, our fearless el Bucko prevailed. He is trying to see what has to be done in order for him to remain in Costa Rica for more than the usual 90 days.
He checks his email about once a week, since it is 30 miles by bus to the nearest internet
shop. You can leave him a message at: