What kind of a boat
-Would a seasoned seadog choose to live on, if he had over 20
years of sailing experience to draw from, on virtually everything
that floats? A boat can be many things to many people.
For me, it has to be home, but also a vehicle to go wherever I want to be, especially after I get to where I was headed.
After sailing a 22' Venture from California to Costa Rica, I have had more than enough time for thought on this.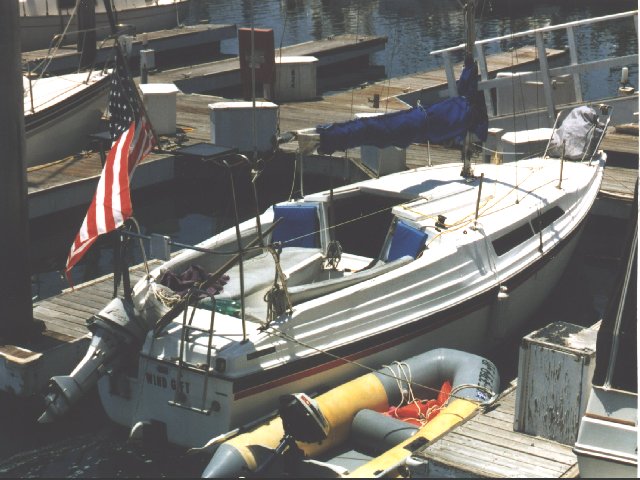 The folks at MacGregor thought about this, too, and designed all the right answers into the
ideal 26' puddle-jumping, sea-going, easy-handling and just plain pretty
"Wind Gift"
-My home on the water.
ONE WOULD HAVE TO
-live on a sailboat, completely disconnected from "shore-power", to appreciate the meaning
of "life support". Electricity comes not from cancer-causing high voltage lines, but from the sun, via the solar panels there, by the flag. Food, water and fuel are all imported, trans-
oceanic, aboard the dinghy.
Preparing for all of this involves some trials, that come when errors are discovered. The
offshore islands of California are a most friendly place to work out the details, because you can find heavy seas for integrity testing, secluded anchorages for extended "self-reliance"
stays, and awe inspiring vistas everywhere, above and below the water. It is an environment
that is always more than willing to help in the process of becoming sea-wise. There are tests,
provided by the weather, some of the animals, and in some places, shallow water.
The rules and potential outcomes are the same as with any test:
Rule #1) Be prepared. Pretty familiar, eh?
Potential outcome#1) You pass. In sailing, sometimes this can be the end-all test of wits, courage and stamina. Other times, you just find another way.
Potential outcome #2) You fail. This can be attributed to countless mistakes, bad decisions and oversights. Old men of the sea are wise by default, because unwise seamen do not grow old. I offer as much advice as I can, wherever I can, as you see in this site. By and large, one
finds this to be true of the whole boating crowd. Please be aware of what it means to "cast-off". It's you and the sea. As you go over your lists of supplies and equipment, be very attentive, because one of the certainties of sailing is that
You will be tested. The other certainty is that after all of the time, effort, money and "sacrifice" of leaving the shore behind, there is a connectedness to life that is found only in this way. For me, this isn't just "worth it" -this is"It".